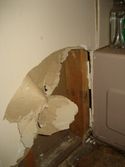 I understand that time has past since my last post.  Naturally many things have  occurred since then. Life mainly.   The excitement of moving into a new studio and home,  breaking out tools that have been in storage for such a long time.  Just when I started to get back into the swing of things, getting somewhat organized,   getting accustomed to our new home,  4 months later Hurricane Sandy hit the island, the water rose in places that never rose before.  Thankfully we were fortunate than most but Sandy has set my production back for the time being and life in general.  With a foot of water in the studio,  our roof being torn off by the wind,    equipment and supplies damaged in the studio and home contents damaged as well.  Repairs are still underway.   
Filling out papers, applications,  many phone calls. Adjusters, FEMA, Engineers,  Contractors.  Quite an experience I must say.  Like I said,  we are luckier than most.   There are still families displaced from their homes.  Some people with no homes to come back to.  It saddens me to still be hearing stories of people we know who still are unable to move back into their homes.  The  FEMA workers are working overtime and are overwhelmed.   These workers have come from all over the country to help with the disaster relief.  They too are away from their families and homes.  One of the people we met last week was from Atlanta, GA.  It was bitter cold last week,  something she was not accustomed to but she still said how beautiful the ocean was.  She took a  walk on the beach in Cape May, upon returning to her car,  she was frozen stiff.  Not use to the East coasts cold weather. 
Heck, last week we were not even use to that bitter cold weather.  Last year was so mild and Spring came early.  We too were spoiled.  The ocean was warmer sooner than usual as well.  it was a beautiful year until Sandy hit.  Halloween one week before Thanks giving.  it was a speical Halloween this year and important for  the children to go trick or treating and for as late as Ocean City had their Trick or treating(postponed twice due to debrit on te streets), I was pleasantly surprised to see how many families came out in full costume.  We ran out of candy.  I felt bad.
With the media gone,  the beach towns are slowly trying to restore back to what they once knew.  Cape May was one of the lucky towns.  No damage for the most part.  So,  West End Garage has been going strong,   although I feel that people think Cape May was hit By Sandy and have been staying away.  Not the case,  events are underway,  stores that are normally open during the winter months,  are open, restaurants are serving their delicious foods.  West End Garage is also operating on the Winter schedule but still open on the weekends and new arrivals coming in weekly.
I have found a small corner where I am able to create new pieces until the work is completed in the studio.  So be sure to stop into West End Garage to grab some fantastic new earrings, necklaces, bracelets or rings.  Great colours.  Getting excited for all the Spring colours and styles.  I may be a little slow in getting pieces posted on the web,  so please be patient,   but as soon as I complete the pieces they are stocked and ready in the store.  Be sure to like my page on facebook.  First previews are usually there, then Twitter.  I try to keep up to date with those 2 social networks.  So follow me and you will  be kept in the loop.
Be sure to have a great day and I promise I will not wait another year to post.  Each day is getting better and better.
Cheers from Wydinya!!!