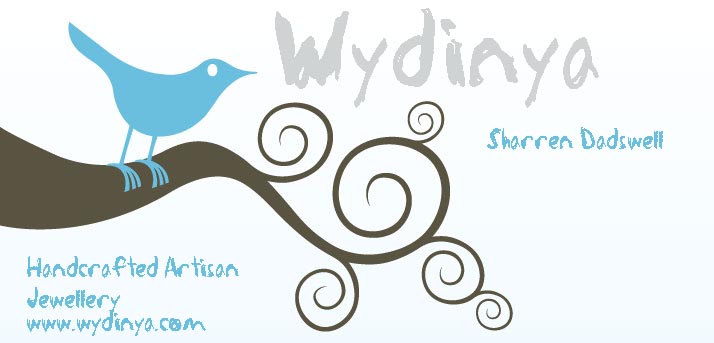 Wydinya Studio's is the creator of one of a kind and limited edition handcrafted wearable adornment. All of wydinya's jewellery is carefully hand crafted with semi precious stones, pearls and metals. It strikes a balance between modern, industrial, fresh and delicate.


Wydinya's Collection is a one-woman show which began in Sharren Dadswell's small 2 bedroom apartment performed on the stage that others refer to as the bed. What began as a few boxes of beads in the corner of my room in Philadelphia in 1988, (right off of South Street)., has now grown to a full time business.
I look forward to designing new and exciting pieces.

  Creating One of a kind and limited edition jewellery. Incorporating mixed metals and semi precious gems and pearls into my work. I enjoy all styles of adornment from the industrial/contemporary to the elegant and simple. Keeping everyone on their toes because I like all styles. Vintage is my favourite era and style , Retro colours are the bomb. But I can see a bottle cap or a piece of scrap metal and see some type of adornment in it. Nothing is spared when it comes to adorning the body.  Art is everywhere.

Adornment of the body and soul has been around way before I began my journey in creating adornment. I am fascinated by the American Indian's attention to detail and colour with the very little tools provided to them. The gorgeous Mayan adornment, fortunate enough to have gold readily available. The Egyptian adornment to the roman empire. There is nothing that doesn't inspire me. The orchestra of the spring colours that mother nature presents to us to the fall brilliance that I am fortunate enough to experience every year.
The tropics are another inspiration. How does the peacock get that pattern on their feathers. Or those tropical fish. Have you ever seen a seawater worm cross your path? The colours are gorgeous and their movement is intriguing.