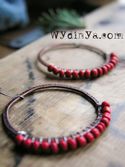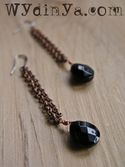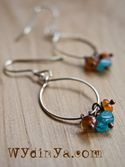 Back again,  figured while car in shop I would take a few minutes to check in.  I've decided to set some goals for myself to keep me motivated and creating.  At least 5 pairs of earrings a week.  And each week those earrings get placed in West End Garage, Cape May.  No delay.  Unless of course I have  a few friends who stop by and grab them before I even tag the pieces.  Which has been known to happen here or there. 

Above are a few samples of last weeks creativity.  These are now in Cape May waiting for someone to sweep them up to enjoy.  After all Valentines is right around the corner and if you don't have a sweet heart to buy them for you,  who cares,    go ahead and  treat yourself,  you deserve it.

.  Lots of colours, shapes and sizes to choose from.  Necklaces galore.  I am particularly excited about my new line I have created for the Spring,  so stay tuned my friends.

Well, time to go.  My dog is now on his second sock from the wash.  With running up and down the stairs after him,  trying to catch him  before he shreds the darn things,  I have completely lost my train of thought..  Frustrating,  but I am now going to try and get some more painting done and then head into studio to create this weeks earrings.

Ciao for now!!

Wydinya.