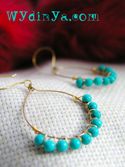 Just waiting for the insurance guy to show up to re-assess.  So in the meantime I thought about checking in.
Well,  also, I can't wait to share my new work and get it into Cape May.  Very exciting for me to get into the studio and clear up part of the work bench  and hammer away my frustrations until my creativitely started to flow.  I think the banging away helped and three new pieces evolved.  Still need to wrap the finishing touches up.  Along with the three new necklaces i created this week I also put some great coloured earrings together and those are in the Store in West End Garage, Cape May, Nj.  So if you happen to be in the area please feel free to stop in to check them out.
Can't get into Cape May,  then you can also purchase these items from my
online store.
    I have been working frantically over the past few weeks to get the store back up and running and I thank everyone for their patients while I closed the store due to the move at first and then it remained closed due to Hurricane Sandy.    So,  thank you, thank you.
Well,  I think the insurance man is here.
Will check in soon to share my new pieces.
Have a great day.
Cheers!!
Wydinya