CORRECTION ON THE TIME FOR GUYS NIGHT OUT.  PLEASE NOTE ABOVE!!!!!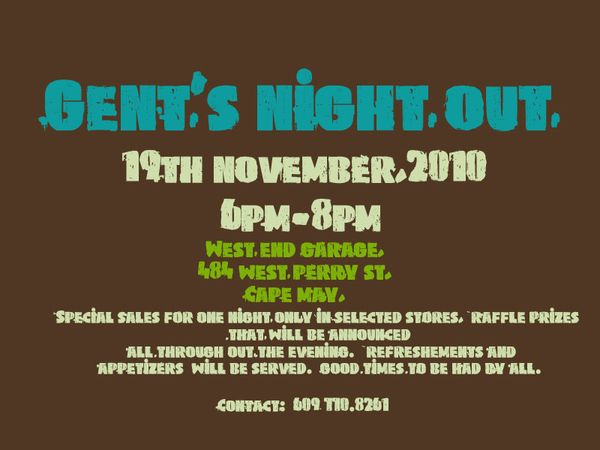 LADIES AND GENTLEMEN, WE ARE HAVING A MEN'S SHOPPING
NIGHT THE 19TH NOVEMBER. MARK YOUR CALENDERS, BE SURE TO FILL OUT
THAT REGISTRY BEFORE THEN LADIES, SO YOUR MAN CAN PICK UP THAT SPECIAL
SOMETHING FOR YOU FOR THE HOLIDAYS. HELP HIM OUT AND FILL IT OUT.

ASK FOR DETAILS UP FRONT. THE WONDERFUL STAFF WILL BE HAPPY TO HELP YOU
OUT WITH YOUR HOLIDAY LIST AND REGISTRY. SEE YOU THERE...